Making Buckhead. . . so very livable.
Join Us for PATH400's Official Community Opening  ***New Date***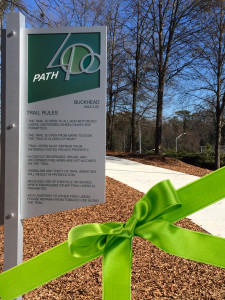 Join us on Saturday, January 24 at 11 a.m. to celebrate the official opening of PATH400 and unveil the winners of our Playing with Shadows on PATH400 design contest.
This event will be our first chance to have some fun on PATH400, so we're kicking it off with a parade! Decorate your bike, tricycle, scooter or other non-motorized wheeled vehicle and join the procession. There will be prizes for the best decorations, so put some creativity into it!
We'll have warm beverages and light snacks to knock off the January chill. Parking for the event will be available at The Prominence Building located at 3475 Piedmont Road. The parade will begin promptly at 11 a.m. at the entrance to the trail near the BUCKHEAD wall along the north side of Buckhead Loop. It will conclude approximately a quarter-mile down the trail, where we will unveil the winning Playing with Shadows panels.
 Please make plans to join us for the festivities!
Community support helps make PATH400 possible. CLICK HERE to make a donation.
Construction Update for Phase I of PATH400 - Despite a rainy start, construction of Buckhead's 5.2-mile long multi-use trail is well underway.  Phase I begins at Old Ivy Road and runs south along GA400 to Lenox Road and is nearing completion.
PATH400 is a project of LBI, with support from our partners The Path Foundation and the Buckhead Community Improvement District (BCID).
Buckhead 2014 Eco Collection A Success  - The rain held off  to make the fourth annual Buckhead Eco Collection, held in partnership with Live Thrive Altanta, a roaring success. Almost 400 participants came through, dropping off more the 17,000 lbs of electronics to be recycled and 4.5 tons of paper to be shredded and recycled.  We would like to thank our generous sponsors of the event, for making this success possible, as well as the volunteers from Hands on Atlanta.