Buckhead REdeFINED – LENOX SQUARE: EAST PACES FERRY ROAD ACCESS IMPROVEMENTS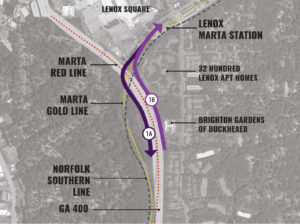 GA 400 Off-Ramp to East Paces Ferry
Another major project for the Lenox Square subarea is the potential addition of an access ramp to and from Georgia 400 at East Paces Ferry Road (north of the rail lines behind Lenox Square Mall). This access ramp would land at a proposed roundabout connecting East Paces Ferry and Ring Roads. In addition to enhancing mobility to and from GA400, the new ramp would distribute traffic and reduce congestion at Buckhead's only existing GA400 interchange (on north Lenox Road). The roundabout would serve to quickly change travel behavior from a freeway ramp onto a local, multi-modal street. 
Lenox Square Mall Access Enhancements
A narrowing of both East Paces Ferry and Lenox Parkway is needed to improve pedestrian access to the mall with wide saidewalks, and accommodate the East Paces Ferry Trail. The East Paces Ferry Trail between Lenox Road and the existing Bynum Bridge across GA400 serves as the southernmost segment of the Buckhead Cultural Loop Trail.