Buckhead REdeFINED – LENOX SQUARE: LIFESTYLE CENTER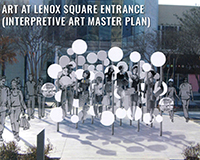 Transform the existing areas of parking fronting Lenox Square Mall into a lifestyle center oriented to Peachtree and Lenox Roads. Future buildout could include several signature towers, with a vertical stack of
uses. Buildings would be anchored with street-oriented retail, and include a publicly accessible promenade linking Peachtree Road and the current entry to Lenox Square Mall. Redevelopment along Lenox Road
can be built in phases, starting at Peachtree Road and extending south to MARTA's Lenox Transit Station at East Paces Ferry. This approach recommends converting the existing surface lots fronting the mall
into parking decks to create a new plinth upon which buildings would rise from street level at Peachtree and Lenox Roads. This building orientation would continue between Peachtree and East Paces Ferry Road to ensure that all new buildings are oriented to the level of the Lenox Road Boardwalk with active retail frontages. Long-term opportunities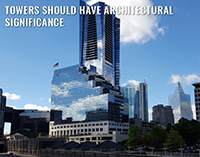 include extending the subarea's street network through the parcel to create a more connected grid of city blocks.
Lenox Road – A "Great Street"
The Lenox Road Scoping Study, identified ways to foster a distinctive Buckhead identity for the corridor's entire length. A highlight of the study is the concept for the Lenox Boardwalk, a pedestrian promenade
along the west side of the Lenox Road between Peachtree and East Paces Ferry Roads. When combined with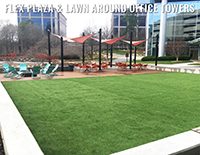 new development, and activated with street-oriented retail and public art, the distinctive high-quality boardwalk has the potential to greatly enhance walkability, access and overall sense of place along this important and recognizable Buckhead street.