Buckhead REdeFINED – LENOX SQUARE: LINEAR PARK & TRANSIT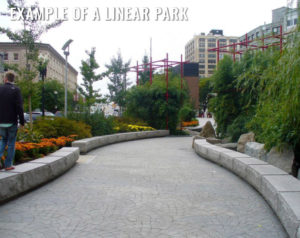 Linear Park
East of Lenox Road a new mixed-use neighborhood is proposed. These additions should be connected by a linear park to extend the newly-constructed Marie Sims Park to Lenox Square Mall. To ensure build out of cohesive and consistent park over time by various private developers, future public space designs should correspond to those already in Marie Sims Park, such as paving, lighting, signage, water features, and street furniture selections. At Lenox Road, the Linear Park should connect to the Lenox Boardwalk and continue across the upper level of the existing parking deck to provide eastern entry to Lenox Square Mall. This new pedestrian access should be lined by new outdoor storefronts and public art at the base of the new mixed-use buildings. 
East of Lenox Road a regular grid of walkable streets and block should be created in tandem with new development. The conversion of East Paces Ferry Road into a complete street is currently underway, linking directly into the Buckhead Cultural Loop Trail and projected improvements along Lenox Road.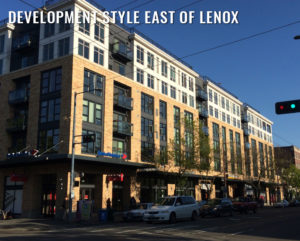 MARTA Lenox Transit Station
The MARTA Lenox transit station should be more of a district focal point for the subarea. In the short-term a variety of measures can help improve the overall customer experience, including general maintenance, landscaping, lighting, wayfinding, and crosswalk improvements to more clearly direct transit riders to Lenox Square Mall safely and directly. Temporary and permanent public art installations and infill pop-up retail should be considered to activate the underused station plazas along both sides of Lenox Road.
Long-term investments should look at opportunities to add high-density transit-oriented development adjacent to and atop of the station taking full advantage of existing air rights. Future uses could include office and a diversity of residential offerings.
At the rail station the proposed Lenox Boardwalk will connect to a new multi-use trail along East Paces Ferry Road. As part of long term transit oriented development at the MARTA transit station.