Buckhead REdeFINED – SOUTH PIEDMONT: VITALITY AND MOBILITY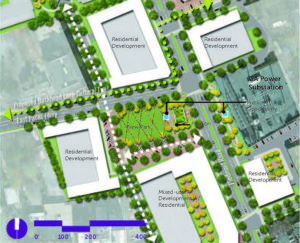 Mobility improvement strategies for the South Piedmont subarea include:
Modifying Piedmont Road from the current 6-lane roadway to 5-lanes with a center turn lane will sustain effective movement of traffic and accommodate similar vehicular capacity, while providing an opportunity to widen and enhance pedestrian sidewalks along
the corridor, as illustrated in the crosssection below. 
Expanding the street network adjacent to Piedmont Road in tandem with private redevelopment to create a more walkable network of streets and blocks. Priority should be given to creating east-west connections and a viable north-south alternative west of Piedmont Road, thereby removing loading and relieving vehicular congestion on the primary arterial.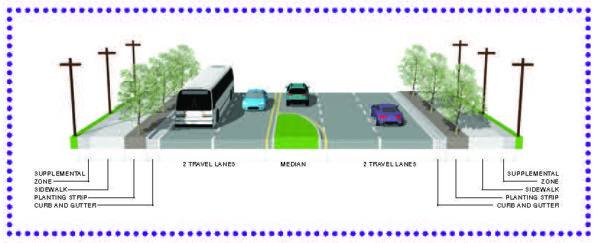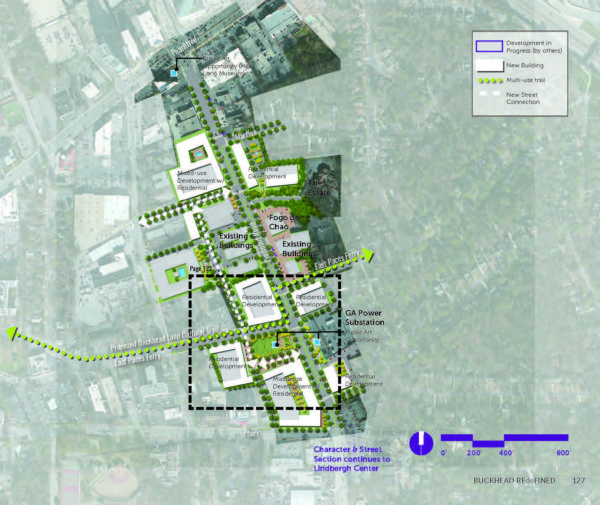 Redevelopment opportunities for the South Piedmont subarea should:
Focus on larger parcels and be limited to mid-rise buildings that appropriately transition to the adjacent single-family neighborhoods, include a mix of uses, and prioritize a diversity of residential types and price points for inclusion of workforce housing. 
Identify and craft public spaces in tandem with new development. Create a significant Public Park as properties along the corridor redevelop. 
Address existing infrastructure barriers through public art and activation strategies, including the existing power substation and associated utility poles located at Piedmont and East Paces Ferry Roads. Interpretive history installations should tell Buckhead's
story throughout the Buckhead Cultural Loop Trail along East Paces Ferry Road.