Buckhead REdeFINED – WEST VILLAGE: MOBILITY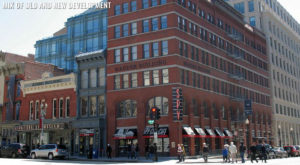 Mobility improvements in the West Village should seek to:
• Create more mobility options
• Enhance internal walkability
• Centralize and address parking
• Provide better access to transit
For example, the Buckhead Cultural Loop Trail adds more mobility options and enhances internal walkability by providing a multi-use connection between existing and proposed future developments, provides better access to the Buckhead and Lenox MARTA transit stations, and creates a local connection to vital amenities such as the Atlanta History Center and the potential Park Over GA400.
Roswell Road Corridor Enhancements help to address on-street parking issues between Loudermilk Park and East Andrews Drive, and provide new pedestrian crossings along Roswell Road. A full list of mobility improvements is provided in the table to the right. Together these projects, along with streetscape requirements outlined in Special Public Interest 9 (SPI-9) Zoning Code, seek to create a pedestrian-scaled village as an alternative to the automobile-dominated corridors that define the area today.