Buckhead REdeFINED – WEST VILLAGE: ROSWELL ROAD and LOUDERMILK PARK
Long-term changes within West Village that would maximize impact include a complete street transformation for a section for Roswell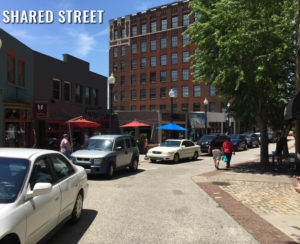 Road and an expansion of Loudermilk Park across Sardis Way. 
Roswell Road Corridor Enhancement
To help maintain the village scale and encourage walkability, Roswell Road should be enhanced into a complete street between East  Andrews Drive and Irby Avenue. This reconfigured section would remove curb cuts to create a slip lane to access new angled on-street parking. To minimize conflicts with drivers and pedestrians, this lane would only be accessible to southbound motorists from East Andrews Drive. Pavers, street trees, narrower lanes, wider sidewalks, and speed tables or flush curbs will slow traffic, prioritize pedestrians over vehicles, and allow mid-block pedestrian crossings.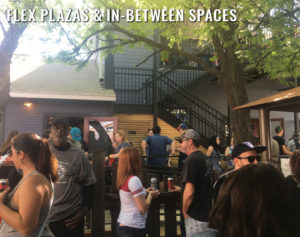 Flex Plazas and In-Between Spaces
West Village has many "in-between" spaces, primarily small parking lots, which could become interim flex plazas designed to accommodate both vehicle parking and public gatherings, depending on demand. A combination of painted ground surfaces, cafe lights, planters, movable outdoor furniture, and other permanent and temporary features could create spaces conducive for hosting smaller public gatherings and events during off peak parking hours.
Loudermilk Park
Loudermilk Park has the potential to more than double in size by extending to the Bank of America parcel across Sardis Way. The expansion would create a unified "central square" for Buckhead that would be more connected to adjacent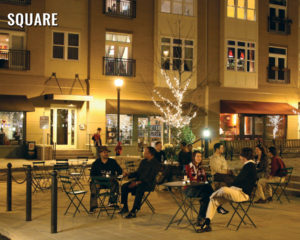 properties with ample room for public art, community events, and connections to the Buckhead Cultural Loop Trail.
Central Parking Deck 
As new development replaces existing surface parking, a shared facility may be needed. The plan recommends placement of a shared deck along Cains Hill Place, ideally as part of a larger mixed-use development. This public amenity should be carefully designed to respect the
area's village-scale and overall character, complete with ground-floor retail. Additionally, a public parking strategy or shared parking agreements between area businesses and parking operators are recommended to ensure the most efficient use of existing inventory.