Buckhead REdeFINED – WEST VILLAGE: VILLAGE GREEN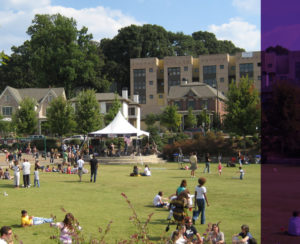 In some cases, greenspace must be created, where possible, replacing underutilized surface parking lots. Along Cains Hill Place, a Village Green (V.3) is proposed on the surface lot situated between existing buildings and a proposed new mixed-use building. The Village Green can accommodate both daily public space needs and larger public events. In this scenario, Cains Hill Place would be resurfaced with pavers and reconfigured to become a shared street between East Andrews Drive and Irby Avenue. The recommended Flex Plazas and Parking behind the existing buildings (page 109) would connect with the shared street and Village Green, creating a weaving space appropriate for festivals, individual business events, or special community events with the closure of the shared street. To animate the Village Green, small retail kiosks should be located to accommodate pop-up uses and cafes, which could be in the form of shipping container retail. 
Companion mixed-use development as shown with the proposed building and potential future redevelopment of adjacent parcels should be oriented to the Village Green, complete with entry stoops and/or retail used to provide the required "eyes on the park." Future development should look to connect the Village Green to the rest of West Village and make Cains Hill Place safer for pedestrians.