Buckhead REdeFINED – WEST VILLAGE: WEST PACES FERRY & EAST ANDREWS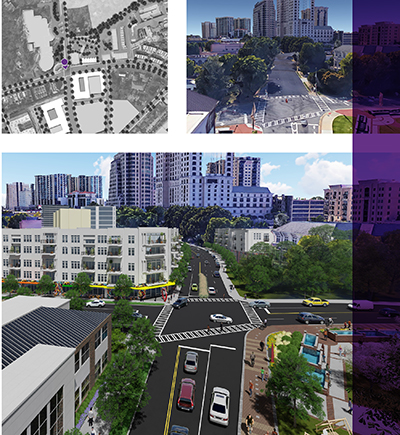 The proposed Buckhead Cultural Loop Trail (M.21) will provide an inviting pedestrian and bicycle connection for residents, employees, and visitors. This trail will create a district-wide anchor that physically unites Buckhead's many neighborhoods to culturally significant destinations such as the Atlanta History Center and the Buckhead Theater. The trail will incorporate art and installations that celebrate the story of the area and serve as the spine for showcasing Buckhead's rich history and cultural traditions.
A key redevelopment site sits opposite the Atlanta History Center at the northeast corner of West Paces Ferry Road and East Andrews Drive. This collection of parcels should be targeted as a gateway into the Village and may allow for the addition of workforce housing, live/work units, and street level retail.