MARTA
All aboard.  If you are new to MARTA and not sure how to ride, you aren't the only one. Luckily, MARTA is one of the easier transit systems to navigate, and one of the safest systems in the country.
MARTA expects a post-Spring Break rise in ridership. Thus, are taking measures that includes:

Deploying operator-ready trains and articulated buses, strategically placed at various stations across the system. This will allow MARTA to quickly infill passenger capacity when necessary.
Reassigning station agents and other personnel who can help new passengers purchase Breeze cards and navigate the best route.
Using our social media accounts to address any service issues, reroute parking and answer customer questions.

Rail services will run on 6-minute intervals (peak) and 12-minute (off-peak). There is no planned change to our bus scheduling at this time.
MARTA are exploring ways to expand parking capacity at or near stations. In addition to re-opening existing spaces and better communicating where overflow spots can be found, MARTA is considering external partnerships and a shuttle service. However, MARTA encourages riders to use alternative modes of transportation, such as: MARTA bus, ridesharing services, carpooling, and KissRide. All MARTA buses are equipped with bicycle racks and customers can take bikes onto our trains.

Uber has announced a 50 percent discount for pool ride to/ from MARTA stations

.
Last Friday, MARTA saw a 20 percent increase in ridership with 92.5 percent on time performance (rail). Monday morning (4:30 am – 10 am) saw even greater gains at some stations and MARTA ran a 99.5 percent on time performance (rail). MARTA's goal is to continue to provide excellent, timely service as the new week opens.
Here are some tips to make your commute easier, whether you're a new rider or just want to improve the commute you already have.

MARTA parking lots and decks are located around Atlanta, with many MARTA stations offering free daily parking. For example, commuters coming from neighborhoods and cities south of Atlanta, the closest parking options are at:
West End MARTA Station (daily)
Oakland City MARTA Station (daily)
Lakewood/Ft. McPherson MARTA Station (daily)
East Point MARTA Station (daily)
College Park MARTA Station (daily and overnight)
Barge Road Park and Ride (daily)
South Fulton Park and Ride (daily)
Riverdale Park and Ride (daily)
MARTA fare is $2.50 for a one-way trip, with free transfers automatically added when you use a Breeze Card for payment. The plastic Breeze Card costs $2 and can be purchased at all MARTA rail stations. Livable Buckhead, in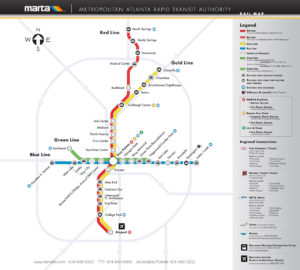 partnership with MARTA, provides unlimited monthly Breeze cards at a 20% discount to Buckhead commuters through their employers and property managers.
If your employer or property manager participates in the program, you have until April 17th to order a card for May.