MARTA
All aboard.  If you are new to MARTA and not sure how to ride, you aren't the only one. Luckily, MARTA is one of the easier transit systems to navigate, and one of the safest systems in the country.
Here are some tips to make your commute easier, whether you're a new rider or just want to improve the commute you already have.

MARTA parking lots and decks are located around Atlanta, with many MARTA stations offering free daily parking. For example, commuters coming from neighborhoods and cities south of Atlanta, the closest parking options are at:
West End MARTA Station (daily)
Oakland City MARTA Station (daily)
Lakewood/Ft. McPherson MARTA Station (daily)
East Point MARTA Station (daily)
College Park MARTA Station (daily and overnight)
Barge Road Park and Ride (daily)
South Fulton Park and Ride (daily)
Riverdale Park and Ride (daily)
MARTA fare is $2.50 for a one-way trip, with free transfers automatically added when you use a Breeze Card for payment. The plastic Breeze Card costs $2 and can be purchased at all MARTA rail stations. Livable Buckhead, in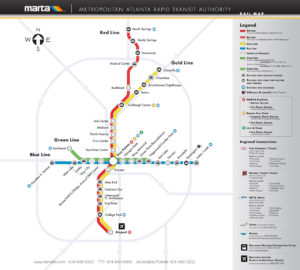 partnership with MARTA, provides unlimited monthly Breeze cards at a 20% discount to Buckhead commuters through their employers and property managers.
If your employer or property manager participates in the program, you have until April 17th to order a card for May.