PARK(ing) Day – Participants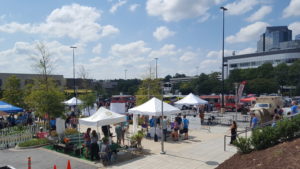 Location: Visibility is critical for PARK(ing) Day, so it will be held in the Lenox Square Parking lot along the Peachtree Road frontage where it is directly visible to adjacent office buildings as well as the thousands of shoppers and diners accessing the mall during the day. Forty-two parking spaces, excluding the handicapped accessible spaces, along the walkway between Peachtree road and the front entrance will be designated for use in the event. Additionally, the parking lot to the west of the walkway will be cordoned off for the event to allow staging of materials.
Participants: Any company or group based in Buckhead will be welcome to participate with a registration fee of $150. Each registered group will be designated a spot for their use on the day of the event. No walk-up or day-of participants will be allowed. There will be a maximum of 40 spaces available for use. Groups may elect to combine two spaces for $250. Nonprofit organizations (scouts, etc) will be offered a discounted rate of $50 and individuals can adopt a space for $25. Each participating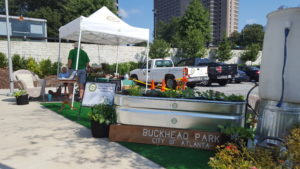 group must supply their own materials and can determine their approach. The only limitation is their imagination. 
Content: Creativity is the key to this event and participants are encouraged to let their imaginations run wild. However, no religious, political or otherwise offensive messages will be allowed and Livable Buckhead and Simon Property Group both reserve the right to remove any installation deemed to violate this rule.
Awards: Awards and prizes will be provided to the top park installations. Categories might include: Most Creative, WTF?, Drop the Mic, Most Innovative, Most Inspirational and others. Winners will be announced by press release and newsletter after the event is completed.
When: September 15, 2017. Park setup time 7am – 11:30am; Food Truck lunch 11:30 – 1:30 to include voting; breakdown 2:00pm to 4:00pm. Everything out of the site by 5:00pm.
                    PARK(ing) Day – 2016